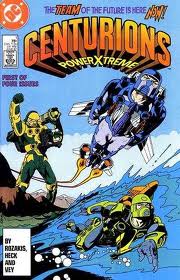 Each of the Centurions is specialized for a particular domain, originally land, sea or air/space. They all have multiple weapon systems that can be 'charged' to their Exo-Frames. As evidenced in the five-part Man or Machine series of episodes, the Exo-Frames also serve as strength-amplifying exoskeletons. This explains how the Centurions can carry the full weight of their weapon systems without any apparent discomfort. Max was shown in the first episode of the miniseries as easily being able to lift a helicopter of considerable size and weight while wearing his Tidal Blast weapons system.
Skyvault's computer system has to assemble the Assault Weapon Systems for them to be attached to the Exo-Frames. They cannot be attached manually to the Exo-Frames' hardpoints. The Centurions can eject the weapons systems from their suits at any time.
The Centurions are also able to request Crystal or the Skyvault computer to recall their current assault weapons system and swap it with another platform.

Foreign names
Edit
Sistema de Armas de Ataque (Attack Weapons System) - Spanish dub
Community content is available under
CC-BY-SA
unless otherwise noted.