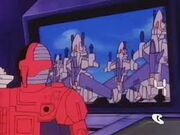 The Doom Drones, also known as Battle Borgs are robotic soldiers created by Doc Terror. This mechanical units are created to perform attacks in land, sea, air and even the outer space.
Types of Doom Drones
Edit
Strafer - The "Aerial Type" units designed to carry out air strikes, they're also used on space missions. This unit can be combined with Doc Terror and Hacker to give them flight capabilties.
Traumatizer - The "Land-Based" walking units designed to perform ground assaults. This Drones can also be combined with both Doc and Hacker, but this combination was never seen on the cartoon series.
Groundborgs - This Drones are also Land-based units created for ground assaults, unlike the Traumatizers, the Groundborgs are faster tanks to the use of treads. This is the only Doom Drone that can't be combined with Doc Terror and Hacker.
Modifications and Variants
Edit